Dettagli

Categoria: Viaggi
Pubblicato Mercoledì, 26 Luglio 2017 14:23
Scritto da Erica Di Francesco
Visite: 3327
ESTONIA: WHERE THE NATURE EMBRACES THE MODERN.
AN UNKNOWN WONDERFUL COUNTRY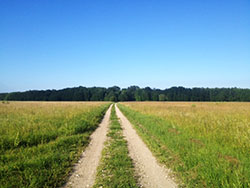 The long way to explore Estonia
by Erica Di Francesco
"What is this country?" It's not just tourists who ask this question but estonian themselves. It is an enchanting, alluring, modern, but traditional, conservative and warm country.
All these words can be used to describe Estonia and its special people. It is small in area but big in climate, geography, traditions and culture, encompassing many contrasts.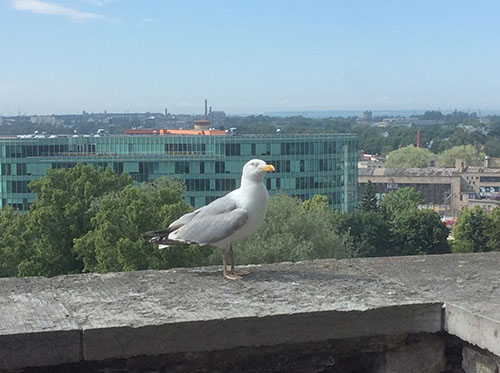 A seagull in Tallin
I have spent my holidays twice till now and I really wish to go back again as soon as possible. I visited the whole area, northern, western and southern Estonia and all three zones are full of activities and interesting places to explore. My favorite one was the southern but all the country is worth visiting.
There are many different people and also many different travellers, when you are planning your trip, you can find more information about the sites and routes on the website <www.visitesestonia.com> anyway I hope this article inspire you to discover this fantastic part of the world.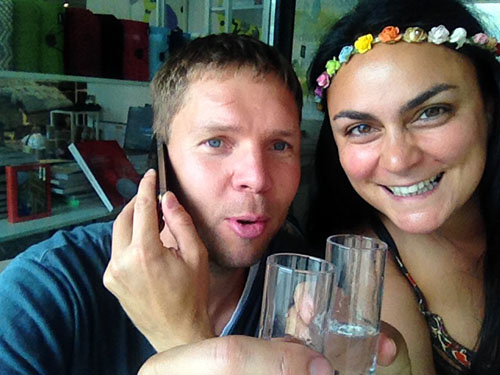 Andres Arro with Erica Di Francesco
I met one day in Milan, so long time ago, a young man called Andres Arro, it was one of my most fortunate meeting!!! He is an estonian TV producer, dynamic and very nice person. We have been in touch for more over 12 years and finally I decided to accept his invite to go to Estonia. Andres hosted me at his home, at his parents home and also at his friends holidays home!!! This means I had the possibility to live like an estonian inhabitant, and there is nothing better to be part of a new culture.
I want to say to everybody how kind and polite estonian people are. Very different from my own culture but interesting and admirable from lots points of view! They are genial people…do you know who invented Skype? Estonian did it!!!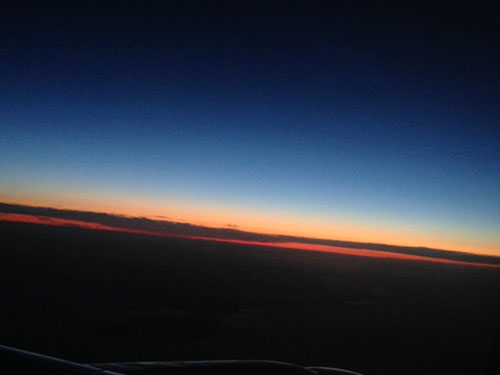 Estonian night
When I flight to Tallin everything was different: first of all the sun stays up all the day! At 4 a.m. it's still light, dark arrives for a couple of hours but never totally in july so….you can't sleep you feel like enjoying every moment of your trip.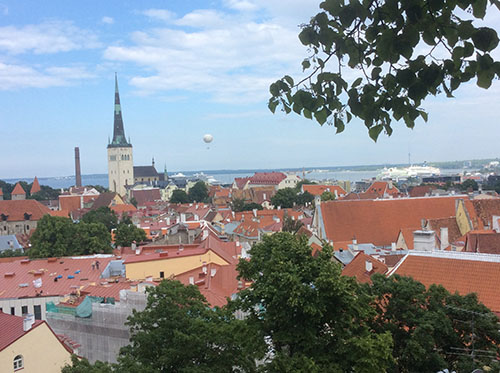 Tallin from the medieval walls
Apart from the people and the very beautiful women that you can meet there I give you 10 reasons to visit Estonia:
Fresh air, unspoiled nature, wild forests, and a variety (more than 200km) of hiking trails;
Short distances-no need to choose between city and nature when you can easily have both;
Old Town Tallin- a UNESCO World Heritage Site;
Nearly 3800 km long coastline, beautiful sandy beaches, more than 1500 islands, and a rich maritime culture;
Rich culture: interactive museums, historical manors and fortresses, over 200 exciting festivals a year; 
Unique cultural "island": the Setos, whose special style of singing-leelo, the inhabitants of Kihnu Island, whose culture features on the UNESCO Intangible Heritage list, and the Russian Old Believers as well;
Curative mud baths and relaxing spas;
A favorite stopover for migratory birds and a habitat for wild animals now rare in the rest of Europe;
Pure and fresh organically grown and wild-sourced food;
An environment that inspires innovation: one of the first European Countries where high -speed 4G mobile broadband covers nearly the entire territory, free wi-fi is a veritable human right, many convenient online public services.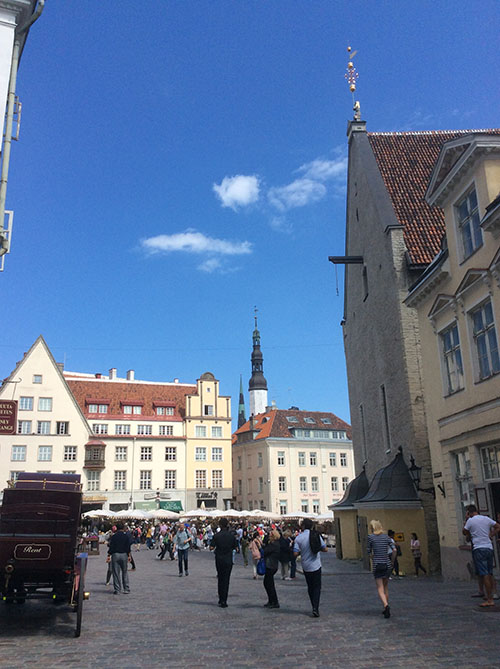 The City of Tallin
These are just some points pro Estonia but there are thousand of them to add; each city I visited got me peace and good feelings, Tallin is the capital and it's astonishing how it mixes modern and medieval heritage perfectly, moreover there is no criminality, no dangers along the city that appears full of attractions, jazz festivals and bars; Tartu is the city of university and it appears bohemian, it is associated to youthful love, intellectual inquiry, Tartu is the home of the one of the oldest university in the north of Europe,the symbol of the city is a statue with two kissing students, so lovely and alternative! This special city is placed in the South of Estonia. Parnu is the western area from there you can easily get on a ship and cross the Baltic Sea to reach the impressive islands, some bigger , some smaller but all fantastic with a very different landscape.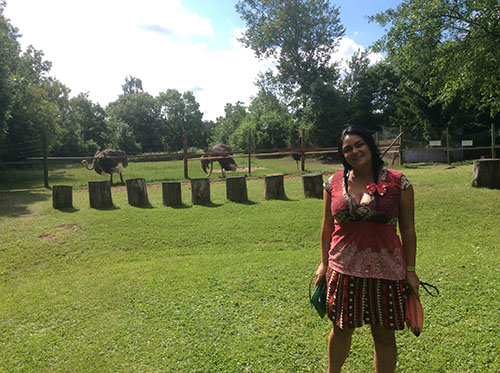 Erica Di francesco In Muhu Island
On the Island I spent part of my last holidays in Estonia, enjoying a jazz music festival: people there have no problem in building a camping tend and stay on the island for three days enjoying the party, the music and the new friends!! In the morning Andres invited me to a very fantastic breakfast with an omelette of ostrich eggs and salad in a very rural and typical bar in the middle of the nature! Everything is so full of nature and so empty of pollution that you can just feel part of the world and your mind starts to think: respect the nature and the wild is necessary….also the toilettes are "natural" , by this I mean there is no water to  clean the closet so…..nature does it!
It's so incredible that a country so well organized from a sanitary point of view ( and I can affirm it because I went for an emergency to the hospital in Tallin and also in Tartu !!) from a technological one they are the top, but they don' t lose the origins, traditions and the main essence of nature.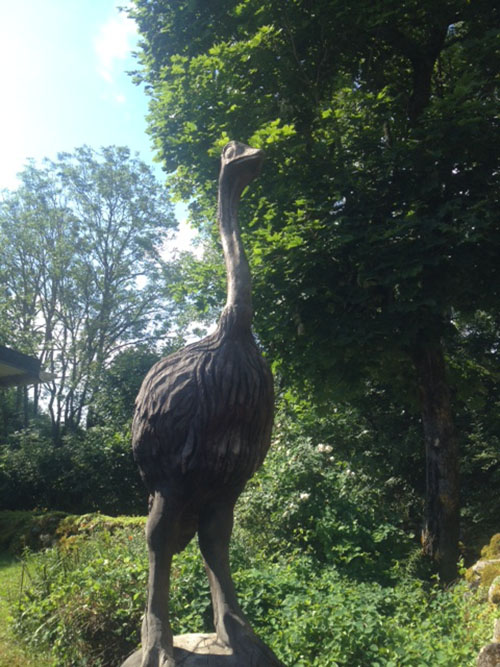 In Ostrich bar
Moreover as you know an estonian better, he or she will be proud to take you  on a tour of the Song Festival Grounds, where every five years,tens if not hundreds of thousands of people gather to sing Estonian songs, culture for this population is very important, think about these dates: 89% of adults has at least a secondary education and 36% have higher education, I really believe this is the perfect country to live or at least to imitate.
An oasis for poets and writers and also a versatile place: the island of Muhunext to Parnu port has in a very small size such beautiful facilities like the luxury hotel Padastee, his history is very interesting :the earliest written history of Pädaste Manor dates back to 1566. On the 25th of June of that yearFredrik II, King of Denmarkhanded the manor over to the von Knorr family in recognition of services rendered to the Danish Crown.
The manor and surrounding farms were an important centre of agricultural activity already by that time. It must have been much earlier, not long after bishop Albert von Buxhoeveden by decree of Pope Honorius III led the last and decisive battle on Muhu Island against the Estonian heathens that this enchanting site was selected to build a manor. The origins of the manor go back to the 14th century, some of these ancient walls are still visible at the very heart of the house. In the latter part of the 19th century the house was enlarged considerably and given a new façade, hence the harmonious dimensions and clean lines which give the house it's character today.
The buildings that frame the court yard were erected between 1870 and 1890, a period in which the German-Baltic nobles enjoyed great wealth. After years of neglect during the Soviet period in which the use of the manor alternated between army headquarter, fish distribution center and home for the elderly until its abandonment in the early 80's, we took up the endeavor in 1996 to restore Pädaste Manor to new splendor, with the goal to create one of the finest hotels in the Baltic countryside. And this is an other key point pro Estonia: their way to change the Russian dictatorship. Estonian people made a singing revolution against the Sovietic union , this explain why I told you its people are fantastic polite and gentle.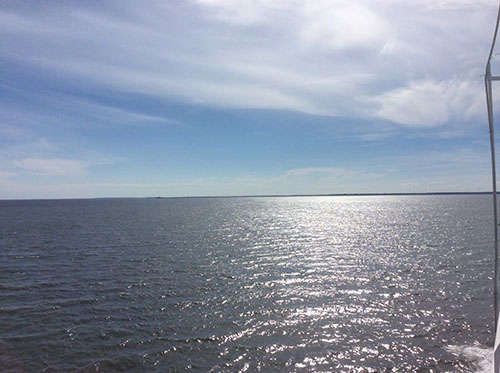 Baltic Sea
I also had the possibility to live the event of Festival Juu Jääb in Muhu, a jazz music party organized by great names from music world.
I can' t stop smiling meanwhile I write about my lovely Estonia, because I think about this quote by Hemingway: "Live the full life of the mind, exhilarated by new ideas, intoxicated by the romance of the unusual" and I want to add: LOOSE YOURSELF IN ESTONIA.